Queen Charlotte's Crown
April 17, 1933-The
Queen Charlotte's Crown
block originated in Charlottesville, Virginia which was named in honor of Queen Charlotte of England, wife of George III. Do you see the pair of crowns?
"In the migration of this pattern to Kentucky the name was changed to "
Indian Meadow
" and in Kentucky was "almost as popular as in it's home city" explained Nancy Cabot in her Chicago Tribune column.
A tutorial for making the
Indian Meadow
block can be found
here
. It's for a 15" block but there is a good explanation of how the pieces get sewn together. You can download my paper piecing pattern
here
.
This is how I made the
Queen Charlotte's Crown
block:
These are the pieces of my paper pieced pattern-
The parts get sewn together like this-
Before adding the half square triangle blocks, mark the seam allowances like this-
Sew to your mark like this-
to make two halves like this-
To sew these pieces together, I started in the middle and sewed from seam to seam before sewing each side as shown below.
You could also start at one end and sew to the seam allowance and then pivot the fabric around to line up your center and then pivot again at the end of the center section to line up the last edge.
Here's another
way
to make the block which is easier in some ways but made differently than Nancy Cabot presented it. The
tutorial
is for a 10" block.
Here's a quilt that is linked to the tutorial also. I love it!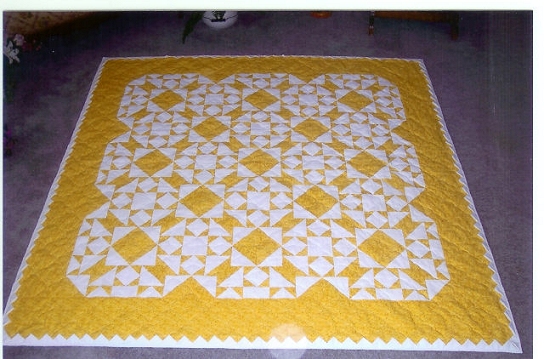 Tomorrow-
Windblown Daisy