Dolly Madison Star
April 29, 1933-The
Dolly Madison Star
is named after the wife of our fourth president of the United States. Nancy Cabot did not have much else to say about this pattern.
It is not a complicated block to make but at 6" finished, there are some very small pieces. I like it so much I decided to make it in spite of the tiny pieces.
Jinny Beyer has templates available on her website
here
for making a 6" block and directions for making the block
here.
She has other size templates for this block available also.
I chose to paper piece mine. You can download my pattern
here
. I tried a couple different ways of paper piecing the block but ended up liking these triangle units the best.
sewn together
paper pieced
I also paper pieced the center 9 patch block because it was easier than cutting the 1.167" squares or strips needed to make the 2" 9 patch. The corner background blocks are cut at 2 1/2" square. The block goes together in rows like this-
I love this layout suggestion for using the
Dolly Madison
Star block. It's from the
Quilter's Cache
and there are directions for making a 12" block
here
.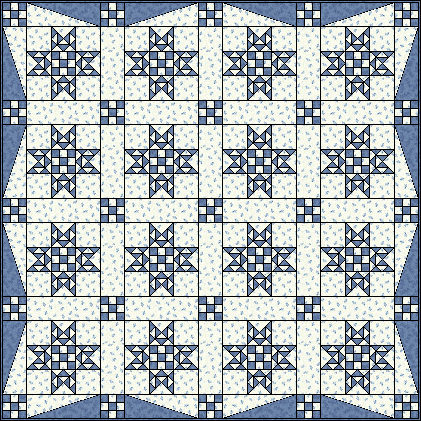 Tomorrow-
Custer's Last Stand